The Adler Aphasia Center
is delighted that you wish to share your time, talents and energy to help our members with aphasia.
Our volunteers show patience, the desire to work with people, the desire to make a difference, are over the age of 18 and are available a minimum of 1 hour per week. Volunteers play a vital role in the success of our programs. On-site volunteer opportunities are available Monday – Thursday from 10:30am to 2:30pm. For more information, please contact Stephanie Sigelkow, Volunteer Coach, at volunteer@adleraphasiacenter.org.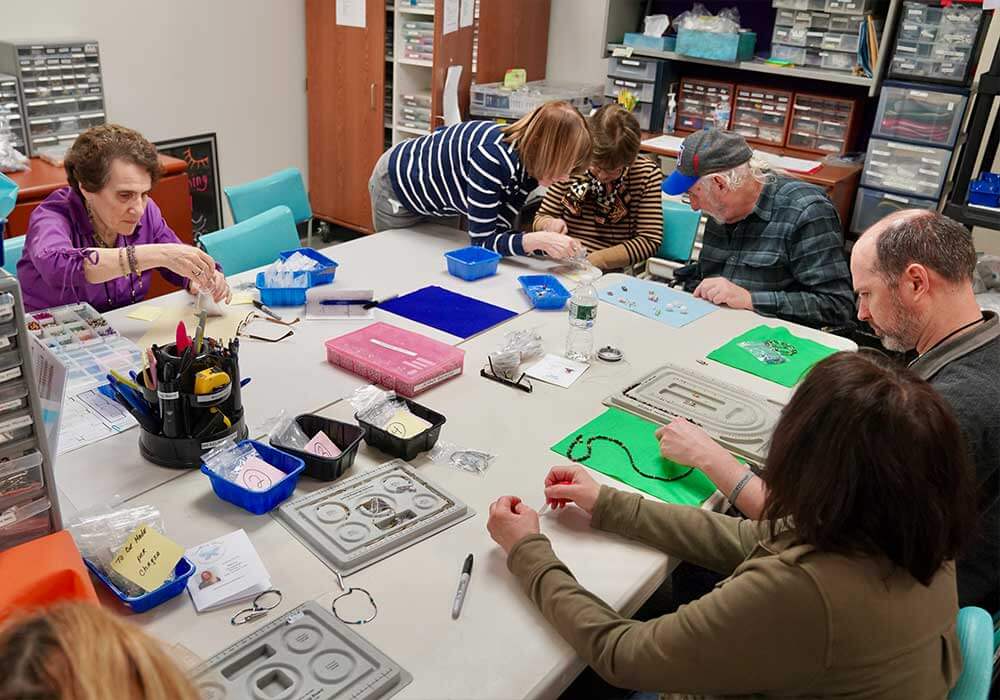 Volunteer Opportunities Include:
Communication Partners work one-on-one with Center members, or in groups to assist group leaders and members in a wide variety of activities designed to enhance the communication skills and psycho-social well-being of our members, including computers and technology, Something Special (jewelry and gift making), art, cooking, games and more.
We need volunteers to assist or lead special interest groups such as art, cards & games, or yoga and other forms of exercise. We are interested in hearing other ideas that volunteers have to offer. This volunteer role is based on the interest of our members.
Volunteers assist our members with aphasia as they make unique hand-crafted gift items in our member-run store. Jewelry and other gift items are sold and proceeds from sales are used to fund scholarships for people with aphasia to attend our programs.
Volunteers share talents at one of our many special occasions. Our members enjoy a wide array of activities (choral groups, dancers, actors, visual artists, musicians, magicians, etc.) Contact the volunteer coach to find out about our next event.
Greets Center members and guests and assist the Center's Administrative Coordinator with light administrative tasks.