The Adler Aphasia Center

is a place where people can connect with others who have also been diagnosed with aphasia.
Our Center was among the first pioneers to focus on regaining conversational skills and re-engagement in life, using what is called the Life Participation Approach to Aphasia (LPAA). Our members learn new skills which help them communicate more effectively, improve their confidence, and enhance their quality of life. By empowering our members to participate in their own recovery process, we provide a supportive environment with language-enriched activities that help them to return to an active and rewarding life.
We currently offer our full-service programs at three New Jersey locations: Maywood, West Orange, and Toms River. Through our innovative programs, our members support each other, develop friendships and improve communication skills, while learning to confront their daily challenges.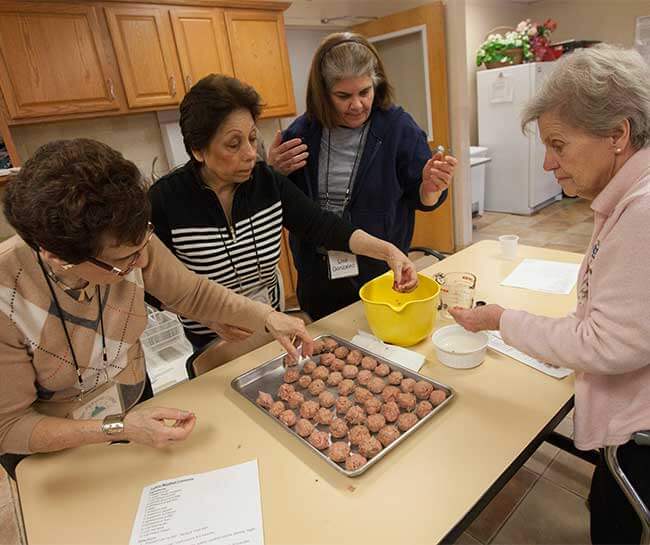 Programming at the full-service locations can include:
Discussion groups (to engage in conversation and practice new strategies with others with similar communication challenges)
Topic-based groups such as book club, travel, comedy, history, movies, etc.
One-on-one computer sessions with a volunteer
Group-based technology sessions using iPads
Performing arts activities such as choral singing, Improv, mock court, drama, etc.
Wellness activities such as art, yoga, exercise, gardening, cooking, etc.
Support groups (offered as separate sessions for people with aphasia and for caregivers)
Advocacy projects and aphasia education training sessions
Schedule for our Full Service Programs
Members attend 2 days per week and are at the Center for four hours.
Members enroll for a 15-week semester; there are 3 semesters each year.
$1,000 per 15-week semester (approximately $30 a day).
Financial aid is available for those who qualify. Scholarship applications are available upon request.
Note regarding other locations: See details about our Aphasia Communication Groups, which meet twice each month. Program offerings and costs differ.