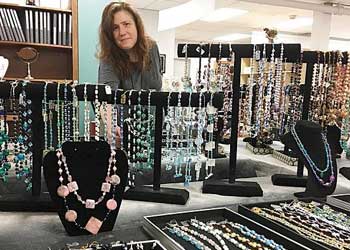 21 Mar

Volunteers make mark at Jewish Home
Adler Center members sell jewelry and raise awareness about aphasia
According to Stacy Orden, the director of volunteer services at the Jewish Home Family, "the guys" have worked 2,163 hours over the years they've been there. What's more, "they are reliable and attentive to detail."
Admirable qualities for any volunteers. But especially noteworthy when "the guys" in question have aphasia, a language disorder caused by stroke or other brain injury that can impair the expression and understanding of spoken language, reading, and writing.
Happily, while this frustrating condition affects a person's ability to communicate, it does not affect his or her intellect — or, in this case, his or her ability to make friends, to sell the center's handmade items, and to educate others about aphasia.
Over the past eight years, members of the Adler Aphasia Center have visited the Jewish Home every Friday to sell some of the jewelry and gift items made by center members under the auspices of its Something Special program. To date, they have collected more than $29,000, averaging about $3,000 a year.
"All of it goes to the center's scholarship fund," said Chrysa Golashesky, Something Special's director. "No one is turned away from participating in our programs because of their inability to pay." She pointed out that the money collected by "the guys" has helped subsidize 137 full and partial scholarships.
The Jewish Home volunteers, who have helped make some of the items they sell, clearly are an effective team. "They arrive each Friday with smiles and a purpose," Ms. Orden said. "Our staff and visitors look forward to seeing them each week and choosing gift items from their beautiful collections. It's truly special when two organizations' missions can work hand in hand."
The volunteers — known affectionately as "the wolf pack" — include Adler Center members Bob Mayer, Ken Albrecht, Walt Nolting, and Javed Ispahany, and Center volunteer Richard Graves. Mr. Nolting, 92, often can be found "modeling the jewelry either in the gift shop or down the hall at their in-house salon, where the ladies have come to expect his weekly visits," Ms. Golashesky said.
The biggest sellers are necklaces, lanyards, earrings, and pens, Mr. Mayer said. He noted also that there's a regular stream of staff, walk-ins, and repeat customers who greet them "each and every time we volunteer."
And not only do the volunteers please their customers, they also gain a lot from their weekly visits.
"They love it," Ms. Golashesky said. "They especially enjoy having the opportunity to volunteer in spite of their communication difficulties. And it gives them a special place to go almost every Friday, rather than staying home when the Aphasia Center has no groups offered on that day."
"I absolutely love Fridays when I am helping the Jewish Home and Adler Aphasia Center at the same time." Mr. Mayer said.
Both the Jewish Home staff and the Adler team have learned a good deal. While, as Ms. Orden pointed out, the staff and residents who interact with the Adler visitors are amazed at their resiliency and post-stroke productivity, the volunteers themselves — all non-Jews — are learning about Judaism.
Mr. Mayer — who is delighted by the fact that the group is given lunch every Friday — said he remembers his surprise at seeing the kitchen bare during Passover. And, unlike many Jews, "We learned how to enjoy eating matzah.
"We have also learned a lot about various Jewish holidays," he continued; he now knows the meaning of "Shabbat Shalom," he said. Not surprising, after eight years of weekly visits, some friendships have formed. "Some people just stop by to say hi and not even buy anything," Mr. Meyer said. And "they've made good friends with several staff members, who are always there to lend a hand when needed," Ms. Golashesky reports.
Not only do they enjoy socializing, she added, "but they make sure to educate every person they talk to about aphasia, raising awareness. They are especially proud to be there to help the Jewish Home as volunteers. Mostly though, this act of volunteerism gives them a sense of pride as they are giving back to the very place that is helping them rebuild their quality of life."
"It's a chance for me to get out and spread the word about aphasia and to show people not to be afraid to speak to us," Mr. Mayer said. "Plus I get to practice speaking in public. That's very important! We are really proud to be volunteers there and love it when they invite us to their annual barbecueand volunteer events."
Ms. Golashesky said that Something Special will host its annual Spring Boutique on April 3. This year, in recognition of the program's 10th anniversary, the Center's artisans have designed a commemorative Serenity bracelet, an Art Deco-inspired piece adorned with Swarovski pearls and silver-plated beads. It will be for sale at the boutique.
"There is no federal, state, or insurance funding for ongoing aphasia services, and the center must therefore rely on the generosity of its donors to offer the critical support that stroke survivors with aphasia need and deserve," the Adler Center's president and CEO, Chantelle Walker, said. "The Adler Aphasia Center, a nonprofit organization based in Maywood and West Orange, is an innovative post-rehabilitative therapeutic program that addresses the long-term needs of people with aphasia and their families.
"With 2.5 million people diagnosed with aphasia in the United States, the center is the only one of its kind in New Jersey, an area with an estimated 70,000 people living with aphasia. Our mission is simple: to provide help for those living with aphasia and their caregivers and to expand awareness and knowledge of aphasia."
"We are so proud of our 'wolf pack,' and what they are doing at the Jewish Home to raise awareness about aphasia," the Aphasia Center's founder, Elaine Adler, said. "I urge everyone to come in for a tour of our center and meet our other members with aphasia who are working hard to rebuild their communication skills. You'll leave with a happy heart!"
For more information about the spring boutique, the center's programs and services in Maywood or West Orange, or the center's aphasia communication groups in Bridgewater, Haddonfield, Hammonton, Maywood, Monroe, Morristown, North Bergen, Scotch Plains, and Toms River, go to www.adleraphasiaCenter.org or call (201) 368-8585.
---
Who: Something Special, the Adler Aphasia Center's vocational artisan program
What: Will hold its annual spring boutique, celebrating the program's 10th anniversary
When: On April 3, from 10:30 a.m. to 7:30 p.m.
Where: At the Center, 60 West Hunter Ave., Maywood
And also: Refreshments will be served. The boutique will offer a large selection of necklaces, bracelets, earrings, desk items, paper crafts, and hostess sets from $5 to $60. A couture line of one-of-a-kind jewelry pieces also will be available. Every item comes with a bio of the artisan who handcrafted the jewelry or gift piece, helping raise awareness about aphasia. The center will offer tours of the Maywood facility for anyone interested in learning more about its programs for people with aphasia and caregivers.