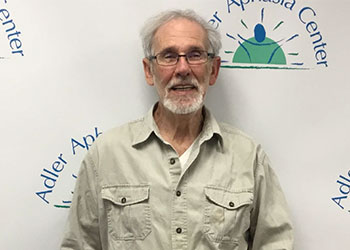 09 Apr

Thanks Mom and Dad for my First Guitar

By Michael F.

I started playing 54 1/2 years ago. My parents gave me a guitar. My guitar was garbage. I got my guitar at Robbie's music store in Hackensack. It cost $30 for four lessons. They were nasty lessons. A few more notes, rather than chords. My friend Danny taught me a few chords.

I learned by Peter, Paul and Mary, Bob Dylan, and Simon and Garfunkel, mostly by finger picking. I also learned rock and roll stuff, easy stuff; chords such as C, A, F and G. The "F" chords were impossible to me at the beginning. Also progressive chords such as G, C and D, or by D, C and A.

I went to Penn State, the best. I loved James Taylor, Cat Stevens and "Suzanne" by Leonard Cohen.

I pretty much stopped playing the guitar 40 years ago. I was a former chemist and was a lawyer for many years. I unfortunately had a stroke 7 years ago. Five years ago I came to Adler. Ginette, a speech

therapist, told me to play a few songs, so I started to play again. I played "The House of the Rising Sun" which was sung by our members Ed and Javed during a choral singing concert held at the center. Another member, Christine loved us to play "Then There Was You" from the play "Music Man". I have learned more than a thousand songs. I love to work with the girls and the guys on our music.

I have an electric guitar, 3 electrical and acoustic guitars, one 12 string guitar. Three of the guitars are Taylor's, the best one was $3,500. They are fantastic guitars. I also have electrical tuners and capos. I have special tools that I use in the winter time to prevent the wood from cracking on my guitars when there isn't enough humidity.

Since my stroke I can't lift up my right arm and right hand. I go to the hospital every four months for cortisone shots. It feels good for about one month but then the pain comes back. But I keep trying!