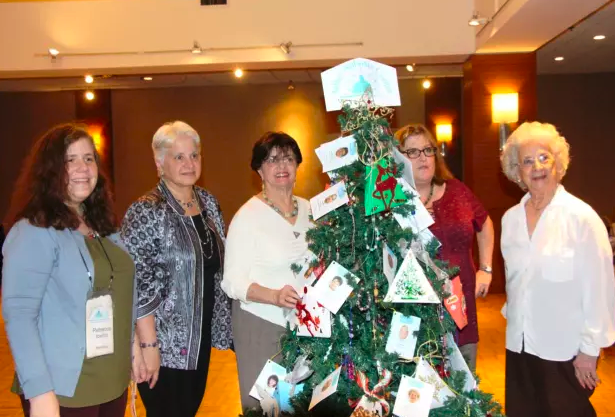 16 Dec

Teaneck And District 6 Little League Deck Out First-Ever 501(c) Tree

HASBROUCK HEIGHTS, N.J. – Give the gift of charity by visiting the "501(c) Trees For a Cause" at the Hilton of Hasbrouck Heights.

Nonprofits from around Bergen County are raising awareness about their causes at the first-ever event, where people can make a donation in person or online.

Sponsored by the Nonprofit Committee as part of the Meadowlands Regional Chamber of Commerce, the event was a collaborative effort with nonprofits from all over Bergen County who came together to host the event.

Each organization was assigned a tree in the hotel lobby of the Hilton Hasbrouck Heights to decorate in a way that reflects their individual missions. Children and adults adorned their trees with a variety of festive decorations, strings of lights, strands of tinsel, handmade ornaments and cards and candy canes.

"501(c)Trees is an incredible opportunity for Bergen County nonprofits to come together to collaborate and hopefully, raise some funds for the involved organizations," said Samantha Poremba, of BVMI, and committee co-chair. "More importantly, our gracious hosts over at the Hilton Hasbrouck Heights have provided us with a wonderful means of raising awareness about the unique mission of each participating nonprofit."

A total of seven Bergen County nonprofits participated in this year's event:
Adler Aphasia Center, Maywood;
Bergen Volunteer Medical Initiative, Hackensack;
District 6 Little League, representing teams from Teaneck, Fort Lee, Edgewater, Little Ferry/South Hackensack, Palisades Park/Leonia, Ridgefield, Ridgefield Park, Englewood Cliffs, Cliffside Park, Fairview;
Girl Scouts of Northern New Jersey, Paramus and Paterson;
Meadowlands Area YMCA, East Rutherford and Lyndhurst;
Bergen Volunteer Center, Hackensack;
New Concepts for Living, Rochelle Park, Garfield, Clifton.
"The Nonprofit Committee is an extremely active group and is an example of how chamber members can come together and work toward a common goal," says Jim Kirkos, CEO of the Meadowlands Regional Chamber of Commerce.
The 501(c) Trees will remain on display through Jan. 6 in the lower lobby of the Hilton Hasbrouck Heights, 650 Terrace Avenue in Hasbrouck Heights.
Click here to make a donation.