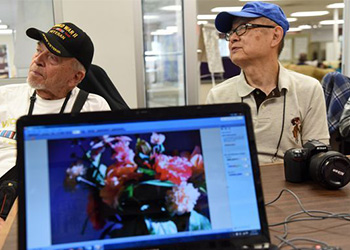 27 Nov

Stroke survivors in Maywood class speak through photography

Walter Nolting, 92, and Jerry Liao look at the screen while volunteer teacher Bruce Kalter crops Liao's photograph, displayed on the laptop in the foreground.
(Photo: Amy Newman/NorthJersey.com)

Ken Albrecht studied the colors in a still-life photograph of a bouquet of flowers broadcast into his classroom on a high-definition television screen.

The photo depicted Kelly green stems and leaves, and bright orange, yellow and scarlet petals juxtaposed against a violet background.

Albrecht turned to the photographer and beamed: "Very good."

The photographer, Jerry Liao, just smiled instead of saying, "Thank you."

For this entire month, photography by six people, including Albrecht and Liao, will hang in the halls of Maywood Public Library as part of an art exhibit. The artists are all members of the Adler Aphasia Center, which offers various programs for people with aphasia, a condition usually caused by strokes that severely impairs the ability to read, write and speak.

The center, on Hunter Avenue in Maywood, offers speech pathology classes, discussion groups and other activities, all geared toward improving members' ability to communicate. The photography class, which has been held at the center on and off for the past eight years, offers members a different form of expression.

"Everything we do is about enhancing communication," said Shelby Klein, president and chief executive officer of the center. "But it's not about communication, it's about photography, this group. They can forget they have aphasia and focus on enjoying photography and using that to express themselves."

Limitations created by aphasia often require those with the condition to leave behind hobbies and jobs they once loved.

For Denise Powlis-Lighty, a lifelong bookworm and poet, it meant forgoing reading as many books and crafting as much verse. For Jean Deer, a former professional photographer, it meant relearning many of the skills he once knew better than most.

At the center, in a small conference room, the artists meet to learn the basics of photography. For an hour every week, the burgeoning photographers meet with their instructor, volunteer Bruce Kalter, learning about color enhancement, exposure and composition.

At a recent class, the students reviewed their recent photography. One by one they offered criticism and praise.

Walter Nolting presented his photograph of a squirrel.

The picture was a bit blurry. But with the class's help, Nolting decided to use a filter that made it look like a stencil, and the imperfections were smoothed out into blocks of color.

Nolting, a 93-year-old World War II veteran who once bowled a near-perfect game with just one spare, was never a photographer. But now, he drives around from place to place with Albrecht, one of his good friends, setting up impromptu photo shoots.

One of his pieces, titled "Dorothy Tree," is a photo of a familiar tree that he looked at with fresh eyes.

"Now, a large maple tree," said Nolting. "All of a sudden, I don't notice at first. And one day, Ken's car came and I was outside. And … 'Wow. Look at that tree! Remember that tree? Now it's 40 feet high.' "

The maple tree stands in the yard of one of Nolting's daughter's houses. The tree was planted in 1997 by the funeral home that took care of the arrangements for his wife, Dorothy. When it was planted, it was only 6 feet tall.

Aphasia makes communication and expression difficult, but not impossible. Those with the condition often tend to replace words incorrectly, have trouble saying complete sentences and speak in fragments.

"I had a stroke, and while I was getting the stroke I got aphasia," said Powlis-Lighty. "But I was with tubes, so I wasn't talking to anybody. And they weren't talking to me, really. And when I finally tried to talk, the words were someplace else."

When Powlis-Lighty regained consciousness in the hospital, she thought that nurses' words didn't make any sense before she realized the words she spoke didn't make any sense, either.

The class tries to use photography, art and discussion to jump-start the fundamentals of communication in new ways. Many of the members come to the center four to five times a week, getting much-needed socialization. Deer and Albrecht are now also painters. A group of them, corralled by Powlis-Lighty, who also works at Adler, go on weekend excursions outside of the center. When they travel together, they call themselves "Outrageous for Aphasia."

When asked if they considered everyone in the class friends, the words seemed to come more quickly than usual to Powlis-Lighty, Albrecht and Nolting.

"Oh, yeah," they all said, in unison and without hesitation.