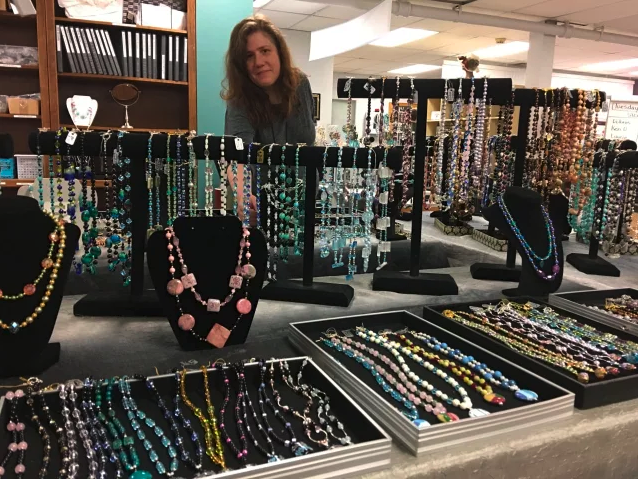 04 Apr

How Maywood Stroke Survivor Turned Her Life Around

MAYWOOD, N.J. — Adler Aphasia Center's Rebecca Iovino was 37 when her 2005 stroke brought her busy life to a halt.

A Teaneck mother of two, Iovino was an architect working with her husband, Anthony, at the family's firm.

Her life revolved around family and her bustling career, but her stroke resulted in aphasia — a communication disorder that impairs the expression and understanding of spoken language, reading and writing.

It occurs most often from a stroke or traumatic brain injury. This frustrating condition affects a person's ability to communicate, but does not affect his or her intellect.

Iovino is among the 2.5 million Americans who live with aphasia, which is more than Parkinson's disease, multiple sclerosis and muscular dystrophy. More than 70,000 New Jerseyans alone live with aphasia.

She has since been able to turn her life around with Maywood's Adler Aphasia Center, and will be debuting her handmade jewelry on Wednesday.

Iovino and other artists in the center's Something Special vocational artisan program are holding a Spring Boutique from 4 p.m. to 8 p.m. at the Adler Aphasia Center, 60 W. Hunter Ave.

Iovino joined the Adler Aphasia Center in 2006 out of sheer determination to rebuild her communication skills and move on with her.

As a member, she would regularly challenge herself with aphasia software exercises and use technology to practice her communication skills. Adler's Life Skills groups that Rebecca participates in helped her to build her language skills and her self-confidence while increasing her self-esteem.

An artist at heart, one of her favorite groups as a member is Something Special, a member-run boutique offering unique, handcrafted one-of-a-kind jewelry and gifts created by Adler's members with aphasia.

Iovino has taken a leadership role in the last few years in running the jewelry classes, teaching fellow members with aphasia the fundamentals skills they need to master the craft and inspiring them with her creative eye for color and texture.

When she's not at the center, you can find her taking jewelry-making classes and creating her own glass beads at a local program in her community. Her hand made glass beads and fine craftsmanship are the essence of the program's "couture line," creating one-of-a-kind jewelry pieces for Something Special's discerning customers.

Iovino finds that this program is especially meaningful to her as she is able to give back to the aphasia community. The Something Special team of artisans have built strategic partnerships with area corporations, businesses and healthcare facilities as the team frequently goes on the road to these venues to sell their products at vendor fairs or home-hosted jewelry parties.

At these events, Iovino and her fellow members sell their handcrafted pieces, using the communication skills they have learned at the center, while teaching the community about aphasia. Each gift sold comes with a bio of the artisan, so that buyers learn the back stories of the artisans, almost all who are stroke survivors, who created the piece they purchased. Buyers are so impressed with the quality of their products, the members' personal stories and what the proceeds are supporting, that they are frequently invited back to hold additional sale events.

More than 40 talented artisans with aphasia create one-of-a-kind pieces using the finest materials.

All proceeds support the Adler Aphasia Center's Scholarship Fund, so that no one is turned away from participating in the Center's programs and services. To date, Something Special sales have exceeded $330,000, selling more than 26,000 gifts since its inception in 2009.

This program has been instrumental in Adler Aphasia Center's mission: to raise awareness about aphasia in area communities and to help members rebuild their communication skills so that they can lead a better quality of life.