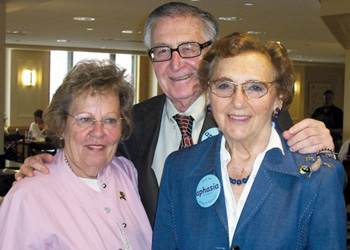 08 Jun

Aphasia Task Force first of its kind
Senate Majority Leader helps raise awareness of communication disorder
New Jersey Senate Majority Leader Loretta Weinberg of Teaneck hasn't seen it all, but she's seen quite a bit.
"I've been around long enough that, fortunately and unfortunately, there are not too many things to legislate about that I haven't seen," said Ms. Weinberg, who has been a member of the New Jersey Senate since 2005 and a public servant for many years before that.
Speaking about her successful efforts to educate the senate about aphasia — she spearheaded the drive to name June Aphasia Awareness Month, and more recently she helped spur the creation of the Mike Adler Aphasia Task Force — Ms. Weinberg said that her mother lived with aphasia for many years, and that her sister has the condition now.
"My sister was a radio broadcaster, living in California," Ms. Weinberg said. "She was with me for a couple of years. I took her to the Adler Aphasia Center. I'll always remember what happened on one of the first days. Mike [Adler] came up to her and said, in his own slurred speech" — Mr. Adler had aphasia as well — "'Don't ever let anyone convince you that you can't improve.'
"I'll always remember that," she said noting that her sister, now back in California, took Mr. Adler's words to heart. "There are certain moments in time that stick with you. That was one of those moments — the courage of this man who had been a hugely successful executive now devoting these years to helping other people." Mr. Adler died in 2015 at the age of 91. His wife, Elaine, has been carrying on the center's work.
Sponsored by Ms. Weinberg and Assemblywoman Valerie Vainieri Huttle of Englewood, the task force named for Mr. Adler was created to assess the needs of people with aphasia and their families, and to ensure that adequate support services and information are available to them.
"It is the only state task force of its kind, just as the Adler center was the first, and, for a while, the only center offering support to aphasics and caregivers," Ms. Weinberg said. The legislation passed unanimously and the governor signed it, she added. Seats on the task force will be filled by professionals or caregivers.
"We want more general recognition," she continued. "This is so widespread, and people don't even know what they have. Also, it's equally important to help get research dollars to find a treatment, and to continue providing services to people with aphasia and their caregivers."
Ms. Weinberg said that as she continued to learn more about aphasia, she realized that many more people suffer from it than she originally thought. "It could come from a stroke, or traumatic brain injury," she said. She recalled an unpleasant incident in the state Senate, when somebody with a communication disorder came before the Judiciary Committee. "Someone on the committee went after this person," she said. But when it was time to vote, Ms. Weinberg, together with former state senator Barbara Buono, who had a relative with aphasia, stood up and said that the man in question suffered from the condition. They stressed that while aphasia impairs speech, it does not affect intellect.
Ms. Weinberg said she respects the Adler center not only because it helped her personally "through my trials and tribulations, but for the work they've done." She has convened several legislative meetings there and speaks admiringly about "its mock trials, musicals, and advocacy work." She also mentioned the center's store, which sells jewelry made by the members. "I used to tease my sister that she spent more time shopping than she did in her groups."
Ms. Weinberg said she works every year to get money for the center in the budget. She has been a supporter of the facility since its inception, having worked for many years with Mike and Elaine Adler on various endeavors in the community. She also served for a while on its board. But now legislators no longer are able to sit on the board of nonprofit organizations, said Karen Tucker, president and CEO of the Adler Center.
Ms. Tucker noted that the new task force, under the purview of the Department of Health, will receive funds for its clerical staff from the department. The bill reads: "The Department of Health shall provide professional and clerical staff to the task force as may be necessary for the task force's purposes, and the task force shall also be entitled to call upon the services of any State, county, or municipal department, board, commission, or agency, as may be available to it for its purposes."
Its mission, says the legislation, is "to monitor the prevalence of aphasia in New Jersey; to assess the unmet needs of people with aphasia and their families; to identify, and facilitate the establishment of aphasia support groups and other support and informational resources designed to assist in satisfying the unmet needs of residents with aphasia, and their families; and to provide recommendations to the governor and legislature for legislation or other governmental action that would further facilitate the support of people with aphasia, and their families."
Ms. Tucker said that many of the items in the mission statement "can be contracted out to a nonprofit, and, in fact, we are doing many of these items already."
Ms. Weinberg said the task force legislation was able to get bipartisan support partly because of her longtime educational efforts — she brings some of the center's clients to the Senate floor and talks about aphasia every year as she recognizes June as aphasia month. She knows, she said, that law enforcement personnel need more information about aphasia, recognizing, for example, that a person may not be able to respond during a traffic stop not because they are drunk or uncooperative, but because they have a speech disorder. Doctors also need more information, she said, since "doctors don't know much about treatment after people have passed through the acute phase after a stroke."
While the creation of the task force is a major achievement, "we need funding, money for research, and treatment protocols," Ms. Weinberg said. "And it's very frustrating for the caregivers," Ms. Tucker added, acknowledging these challenges but noting that she is "very proud to be part of the long history of getting aphasia raised to the governmental level.
"It's a first for states, and we're the first state in the country" to do it, she said. She hopes that the creation of the task force will raise awareness about aphasia, now that the condition has risen to the level of other governmentally recognized conditions, such as autism. She hopes as well that "this will guarantee continued state funding for aphasia funding through the state and encourage more facilities to begin programs."
One positive development, she said, is that the state health department now will take note of patients with aphasia when they check in to a hospital. While the department estimates that there may be 50,000 to 70,000 people with aphasia in the state, "they'll now be keeping statistics."
"Plenty of people are living isolated in the community without access to services," Ms. Tucker said. Once they leave the health care system, it's more difficult to find out about the services. "We need to look at the full breadth and scope of needs," she said, adding that while the Adler Center works to provide social support, connecting people with aphasia to one another, there also is a need for housing support and vocational rehab training.
"There are people at our center who could probably work with the right support, and there are people living in nursing homes who shouldn't be there," she said. "They should be in an independent living apartment."