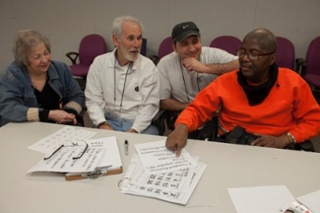 01 Mar

Aphasia Spotlight: Meet the Adler Aphasia Center

Dealing with aphasia can be a long, hard road for many. Thankfully, there are organizations dedicated to helping and supporting that journey. Meet the Adler Aphasia Center and the services it provides to people with aphasia.

Adler Aphasia Center is an innovative post-rehabilitative therapeutic program that addresses the long-term needs of people diagnosed with aphasia and their families. A non-profit organization with two facilities based in Maywood and West Orange, NJ, and seven Aphasia Communication Groups that meet in various towns throughout the state, the Center is one of only a few dozen freestanding, full-service programs in the world that help those with aphasia build a better quality of life.

With almost 2,000,000 people diagnosed with aphasia in the U.S., Adler Aphasia Center is the only center of its kind in New Jersey, an area with an estimated 70,000 people living with aphasia–a communication disorder affecting 40% of all stroke and brain trauma survivors.

The Maywood and West Orange programs offer innovative programming using the Life Participation Approach to Aphasia, a consumer-driven model that places priority on the life concerns of those affected by aphasia and actively assists them in their efforts to return to active life. Center members meet from 2-4 times a week and participate in groups ranging from the arts, communication skill-building, technology, discussion groups, cooking, yoga, and more. Facilitated by licensed speech-language pathologists and highly trained volunteers, these groups are designed to build the communication skills of a person living with aphasia, improve their self-confidence and self-esteem and provide them with an opportunity to enhance their support network by making new social connections. One of the many groups offered for Center members is drama. Their annual musical (Beauty and the Beast production pictured to the right) is one of the highlights of the year for participating members, their families, and the public who attend the two productions each August. Members rehearse their lines and practice their songs for three months, taking great pride in their communication improvements while entertaining hundreds every year.

Recognizing that stroke and brain injury survivors may have mobility, disability, or sheer proximity issues preventing them from taking advantage of a program like that in Maywood or West Orange, the Center created Aphasia Communication Groups throughout the state of New Jersey. These groups provide those who have been diagnosed with aphasia an opportunity to socialize with others who share similar experiences, provide tips to communicate more effectively, and provide time to practice communication skills in a natural environment. Facilitated by licensed speech-language pathologists, the Center's Aphasia Communication Groups meet twice a month for two hours in a casual, social environment in a community-based venue. Currently, Aphasia Communication Groups are located in Bridgewater, Hammonton, Maywood, Monroe, Morristown, Scotch Plains, and Toms River, NJ with more locations to come in 2017.

For more information about Adler Aphasia Center's programs and services in Maywood or West Orange, NJ, or for information about the Center's Aphasia Communication Groups, visit the website at www.adleraphasiacenter.org or call 201-368-8585.