28 Feb

20 Years in the Making: The Adler Aphasia Center Celebrates its Legacy of Impact
"If you change the way you look at things, the things you look at change."
On the dawn of the 20th anniversary of the Adler Aphasia Center, we reflect on the commitment of Mike and Elaine's mission to enrich the lives of people with aphasia and their loved ones. This year marks an incredible milestone to truly roll out the red carpet for celebration, reflection and opportunities for even greater impact.
In anticipation of the year ahead, our CEO, Naomi Gewirtz, saw an opportunity for the Center to evolve and grow. We decided that our logo was the most visible place to illustrate our commitment and highlight this momentous occasion.
The process of developing this new logo brought us great joy and excitement for what is to come. We wanted it to communicate what the Center does and how it makes us feel. After interviewing members, staff and board members, we learned that we all experience communication and love here at the Center. It is a place that is hopeful, joyful, safe and comforting. It is also a place where empathy, acceptance and understanding reside. The evolution of this logo is symbolic of our evolution and expansion as an organization and it is rooted in the original colors, energy and mission that was created 20 years ago.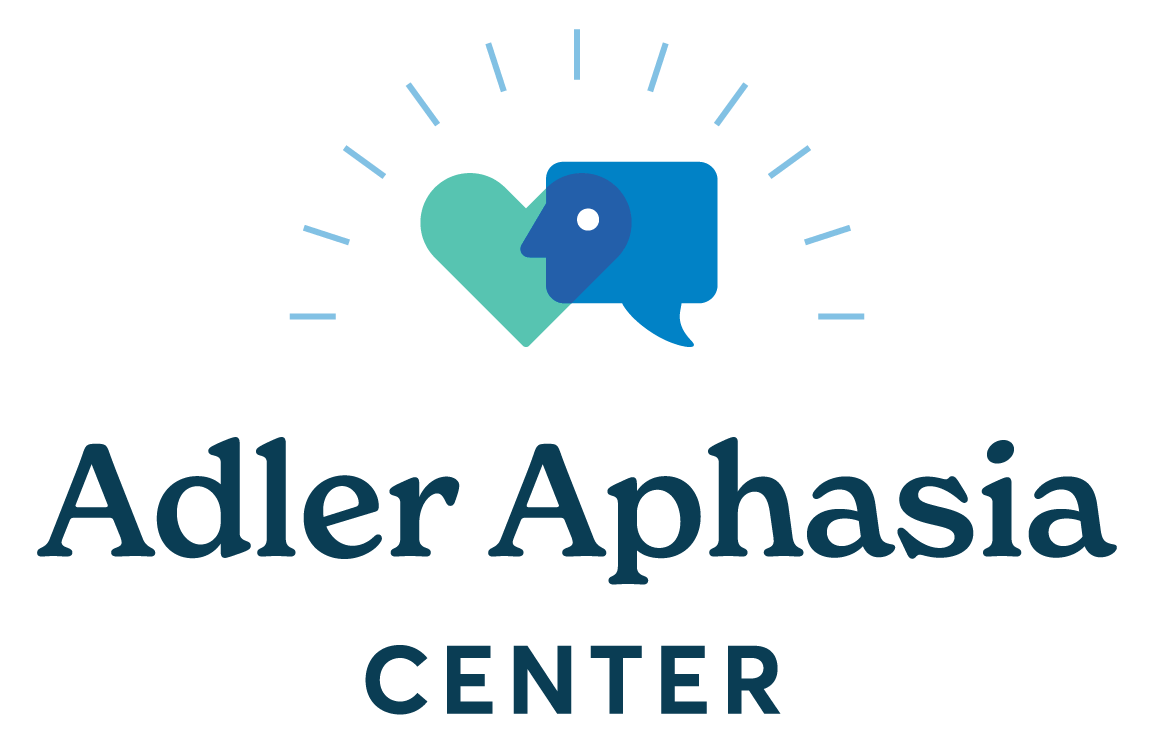 The heart expresses the warmth and care that is undeniable for anyone who walks through our doors. The speech bubble illustrates that communication is our focus and passion. These symbols crossing over each other express that the Adler Aphasia Center is at the intersection of love and communication.
With every ray that shines from the heart and speech bubble, is a member of our community who is more empowered, confident, seen, heard and understood. These rays symbolize hope for the aphasia community and the inclusive future we are working to create.
We invite you to celebrate with us and share our expansive mission with your family, friends, local businesses and community leaders. Our hope is that more people will be inspired to make the world a better place for people with aphasia through patience, empathy and respect.
So as we honor the last 20 years of the Adler Aphasia Center, we see this new expression of our logo as the greatest way to honor the future ahead. It is our promise to Mike and Elaine to build upon the foundation they built so we may continue to advance and empower the lives of people with aphasia and support their loved ones on this journey as well.